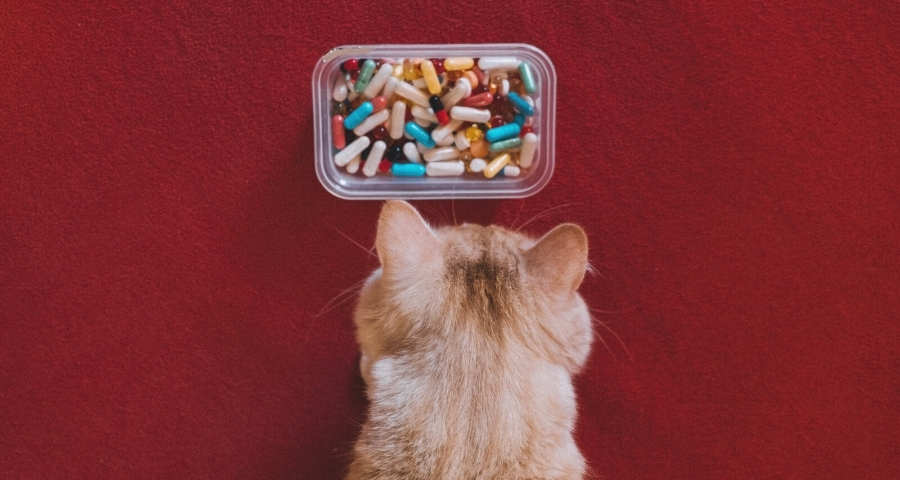 Many common veterinary treatments, such as worming products and antibiotics, require owners to regularly administer oral medications to their pet. Whilst some pets will obligingly allow tablets to be popped down their throat, or at least eat them in food, other pets can prove more difficult. Here are some vet techniques for successfully medicating those trickier pets, with less stress!
How to "hide" a tablet
Try masking the flavour and smell of tablets with a tasty coating. For cats, coat the tablet with a thin layer of cream cheese or semi-melted butter, and briefly refrigerate it to set the tablet inside. For dogs, cream cheese, peanut butter or vegemite can be good options, or try embedding the tablet in a small tasty meat treat.
It helps to get some decoy treats ready too, so you can feed your pet a few treats to set a rhythm, and then administer the medicated treat closely followed by another treat. This distracts your pet from the fact that a tablet is being administered, and gives some positive reinforcement for cooperative behaviour.
If your pet learns how to eat the tasty coating and spit out the tablet, you will need to learn how to "pill" them instead (i.e. administer the tablet directly into their throat).
How to restrain your pet for "pilling"
Learning how to perform effective, gentle restraint of your pet is very important – it allows you to quickly administer medications with less stress to your pet and reduced risk to yourself should your pet become uncooperative.
For wriggly cats or small dogs, consider any of the following techniques:
Wrapping them firmly in a thick blanket with their head popping out the top – often called a "purrito" for cats!
Kneeling on the ground with them gently trapped between your thighs.
Sitting them on a table, pressed back against your chest, whilst you hold around their shoulders.
For larger dogs, it's generally best if someone gives them a firm "hug-hold" around their chest (whilst your dog stands or sits on the ground). Alternatively, try backing your dog into a corner, and get them to sit – this way they can't back up when you start to administer the tablet.
How to administer a pill
A great starting point is to watch the Dechra Veterinary Products video, "How to pill a cat" on YouTube. If you don't feel confident putting your fingers near your pet's mouth, consider usage of a "Pill Popper" – check out the iCatCare video "Giving a cat a tablet – using a pill popper" on YouTube to learn more.
It also helps to have 2-3ml of water in a syringe close to hand, so you can quickly give your pet a drink as soon as you've "pilled" them. This will help them to swallow the tablet. Make sure to give them a tasty treat afterwards as compensation!
If you're having trouble medicating your pet, have a chat with your friendly veterinary team! We can help you administer medications to your pet, or suggest an alternative treatment instead.