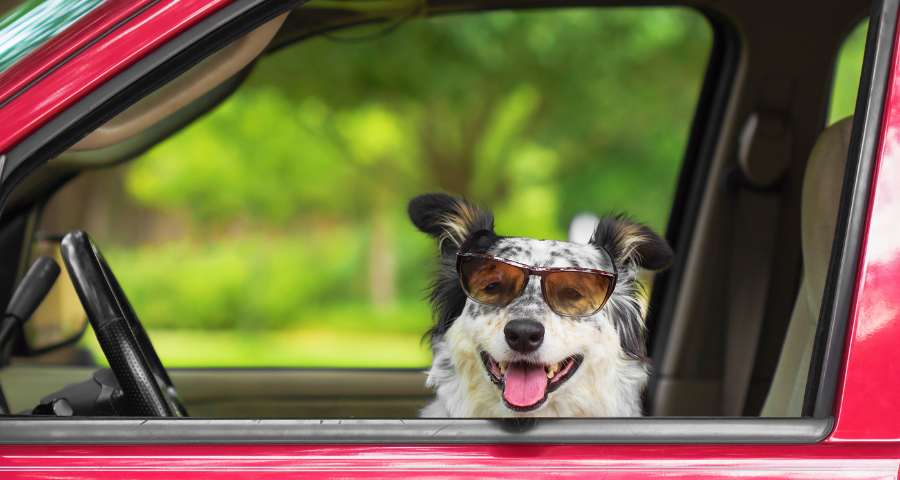 Holidaying with your pet
Is your pet joining you for a Christmas holiday trip? Here are some basic pet travel guidelines to keep everyone merry!
Making a list and checking it twice
Pets away from home can easily get disoriented and lost. Before you travel, check that your pet's microchip registration details are up-to-date. If you are unsure, use petaddress.com.au to find which registry your pet is registered with and then visit the website. Click on the owner link and type in your friends microchip number. It's safest to make sure your pet is also wearing an ID tag or collar marked with your best contact number.
Think about everything your pet will need for the trip. This often includes a secure carrier or collar/harness and lead, plus bowls, your pet's regular food, some familiar comfortable bedding and a few "keep busy" toys or treats. If you're bringing your cat, don't forget to pack cat litter and a tray. For dogs, bring a decent supply of poo bags.
If you know your pet gets sick or stressed on car journeys, please contact us to discuss the safest options for relief medications. Mildly anxious pets may benefit from starting on a calming natural supplement like Zylkene several days prior to travel.
Ensure that you have sufficient supply of any regular medication your pet takes and that they're up-to-date with parasite prevention and vaccinations.
If you're travelling up the east coast of Australia make sure your pet is on a tick preventative. Ticks have travelled as far down as the coast of Victoria and are easily picked up by pets in grass and around water sources.
For the sleigh ride
Encourage your pet to go to the toilet before starting your journey, so they're more likely to rest comfortably. It's best to avoid giving your cat or dog a large meal for several hours prior to travel to reduce the potential for car-sickness.
15 minutes prior to travel, apply a calming pheromone spray onto your pet's travel bedding. For pheromone sprays, use: Adaptil for dogs and Feliway for cats. This can help them to feel secure during the upheaval of their normal environment and routine. Collars of these products are also available and last for one month once applied.
For everyone's safety, ensure your pet is properly secured in the car. For most dogs, the safest option is usually restraint on the back seat using a safety-tested car harness and seatbelt attachment system. For cats or small dogs, it's best to use a properly-secured travel crate. Check that the crate is large enough for your pet to stand up and lie down in comfortably, and has good airflow to prevent overheating.
Every two hours, stop to offer your pet some water and take dogs for a toileting walk. For long trips with a cat, it's best to plan in advance for toileting stops at least every four hours, somewhere that you can set up a litter tray for them in a safe, confined area. Cats in unfamiliar environments may be too worried to pass urine for up to twelve hours, but it's best to offer opportunities all the same.
If you have any concerns about taking your pet on holiday, please don't hesitate to phone our friendly team for advice.